Project B Mead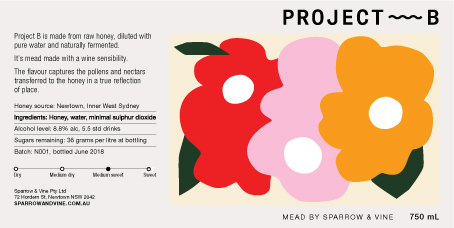 Project B is our side project, using our own honey to produce a modern version of the world's oldest fermented beverage.
Project B is made from raw honey, diluted with pure water and naturally fermented. It is mead, made with a wine sensibility.
The pollen and nectar is the spirit of the flowering plants, the scent and beauty of the flowers transferred to the honey, the ensuing drink a true reflection of place.
The beautiful label was designed for us by Evi O Studio.
You can buy Project B here.
Below are some recent reviews:
"Jump onto the mead wagon: across Australia, more and more people are fermenting honey, producing lovely new expressions of this ancient drink. Project B is made from raw honey collected in Newtown and is wonderfully bright, sparkling and vinous."
Max Allen – Gourmet Traveller Magazine, December 2019
https://www.gourmettraveller.com.au/news/drinks-news/summer-drinking-guide-16704
Sweet Christmas, this Sparrow and Vine mead is a beautiful drop. Made with raw honey sourced from Sydney bees, each bottling has slightly different floral notes, depending on the provenance of its pollen and nectars. There's nothing I would rather drink more with crema catalana, and the natural mead's fresh acidity lends itself to a long seafood lunch.
Callan Boys – goodfood.com.au
https://www.goodfood.com.au/eat-out/news/the-gift-guide-that-keeps-on-giving-20191206-h1k7j9
July 2020 sees the release of our first Pyments. (A blend of mead and grapes).
The Project B Pyment Batch 007 is a co-ferment of Newtown honey with 2020 Shiraz off Bryan Martin's Ravensworth vineyard in Murrumbatemen, ACT. Bryan didn't make any wine off that vineyard this year as the terrible bushfires in the area led to heavily smoke tainted fruit. http://sparrowandvine.com.au/product/red/project-b-mead-pyment-batch-007/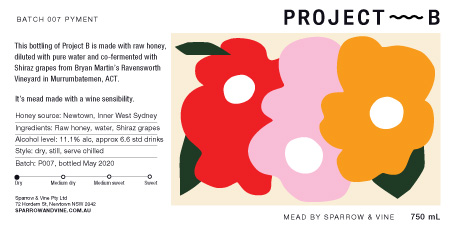 The Project B Pyment Batch 008 i Co-ferment of Newtown honey with 2020 organic Cabernet Sauvignon from Vinfera wines in Mudgee. Intention was to make something closer to Rose and halfway to a "session" style – so alcohol is lower at 8.7%. Zero sulphur or other additions. You can buy it here.http://sparrowandvine.com.au/product/red/project-b-mead-pyment-batch-008/