Project B Mead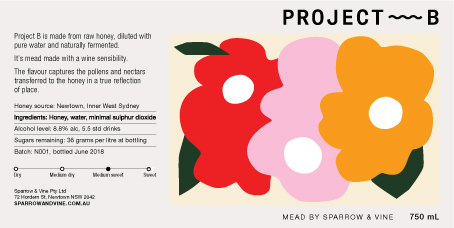 Project B is our side project, using our own honey to produce a modern version of the world's oldest fermented beverage.
Project B is made from raw honey, diluted with pure water and naturally fermented. It is mead, made with a wine sensibility.
The pollen and nectar is the spirit of the flowering plants, the scent and beauty of the flowers transferred to the honey, the ensuing drink a true reflection of place.
Quantities are small at the moment. Please get in touch if you wish to be informed when stock is available.
The beautiful label was designed for us by Evi O Studio.
You can buy Project B here.